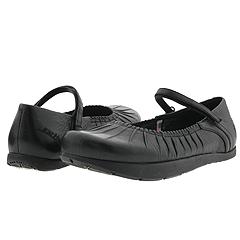 Like most clergy chicks, I love me some Danskos. They keep me aligned so I can walk around all day without my back or hips hurting. I've got crazy flat feet, so I enjoy their arch support, too.
However, the Dankso is not an elegant shoe. When I heard about Earth shoes, I was pretty excited. Good arch support, "negative heel technology" (read: Your heels sits lower than the ball of your foot which is supposed to enhance posture and burn calories. Woohoo!) Even better, they are slightly less clunky than Danskos. They are no Jimmy Choos, but I think this style (Pirouette 2) is pretty cute. You can also by many of their shoes in leather-alternative. (Though I sacrificed part of a cow for mine.)
I've only had mine about a day, but they felt great. They run a little big, so shop accordingly. You can buy them at
Zappos
and hippie-type stores.
They've got buckets of styles, some in super cute red patent leather.