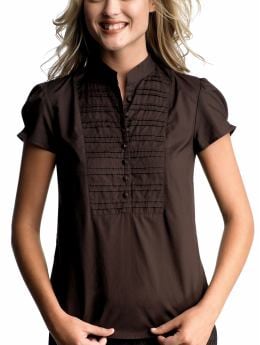 Not the heathen! (Heavens, no.)
But maybe these shirts.
Gap has
this one
in brown and white, which looks like it might be easy to convert. But can you wear a BROWN clergy shirt? I'm not sure that's a good idea.
If you're looking for a grey shirt to convert,
this one
at Ann Taylor Loft might do you just right.
However, you can get a decent grey clergy shirt that is fitted and has all the holes punched for you at Womenspirit. I'm a big fan of mine.